9:50pm (11:50pm AEST) – And so brings a wrap to today's proceedings in Singapore. I was hoping to post the professional photos of the victories of Ato and Chinchon, but they are unavailable at the moment so I will post them later. Many thanks for joining us during the blog. Our next blog, in all likelihood, will be Day 1 of Royal Ascot! Until then, and given the French flavour of the feature, adieu!
9:43pm (11:43pm AEST) – The media hard at work throughout the day!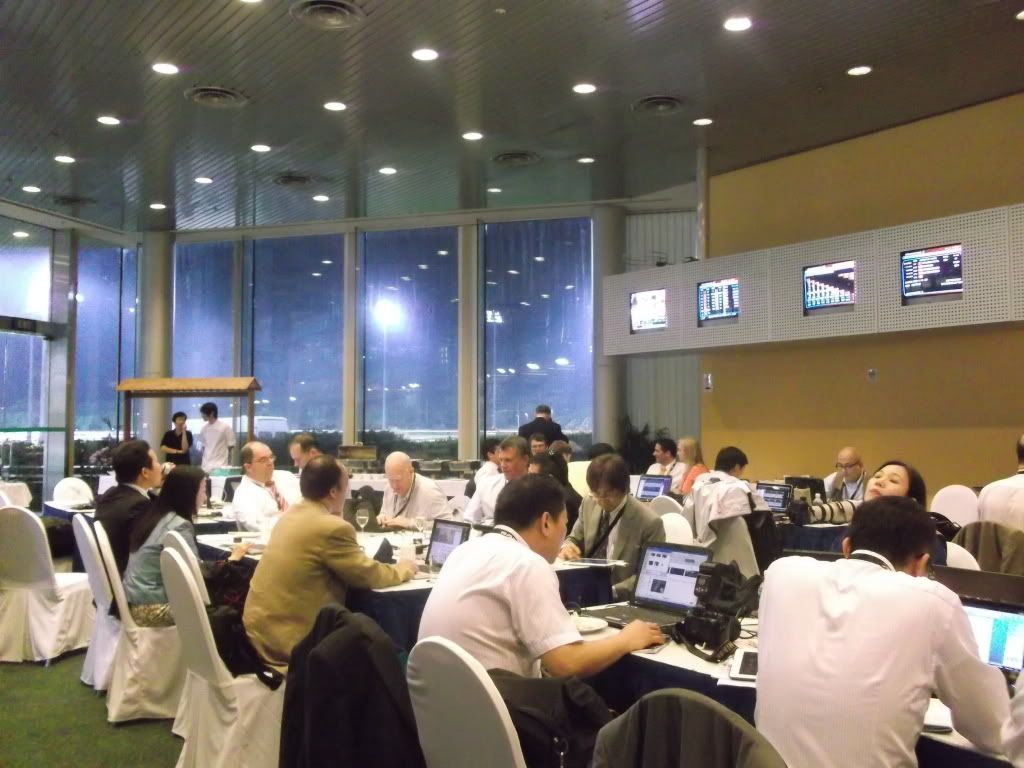 SINGAPORE AIRLINES A380 NEW YORK STAKES
1. KING EMPIRE (W: $7.30, P: $2.30)
2. FAT KING (P: $10.50)
3. RUNNING TALL (P: $3.00)
4.  DAMO
Running Tall pays a nice price the place! But King Empire storms down the outside to win the race in a photo from Fat King, who was 88-1 here in Singapore!!! Running Tall boxed on well for third, while Damo got fourth. And with that, tonight's race meeting is over. I'll be here for another 15 minutes or so!
9:31pm (11:31pm AEST) – Good photo here from Anthony Manton!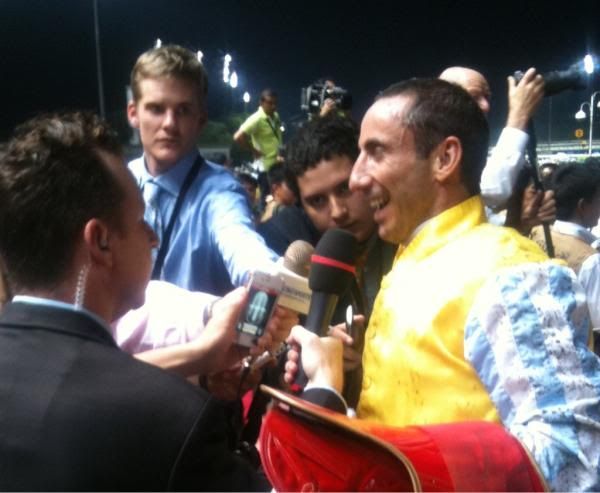 Look at the ugly bugger in the background!!!! (And I don't mean Racing and Sports' Dean Croker)
9:29pm (11:29pm AEST) – The Trakus data on the Singapore Airlines International Cup makes for an interesting tale.
[blackbirdpie url="https://twitter.com/#!/TrakusRacing/status/204193371378565120″]
[blackbirdpie url="https://twitter.com/#!/TrakusRacing/status/204194977071366146″]
[blackbirdpie url="https://twitter.com/#!/TrakusRacing/status/204195347323551744″]
After the attention this blog has brought to Trakus, there's even a push from Trakus to garner support among Australian tweeters.
[blackbirdpie url="https://twitter.com/#!/TrakusRacing/status/204198045578051585″]
9:27pm (11:27pm AEST) – Once again, some photos from my perspective of the Singapore Airlines International Cup.
9:16pm (11:16pm AEST) – The final race tonight is the Singapore Airlines A380 New York Stakes, a Class 3 over 1200m. I was keen on RUNNING TALL as a horse in Australia and I think he has the potential to contest better races. Happy to have a punt on him.
9:14pm (11:14pm AEST) – I feel for Mickael Barzalona. But he'll have plenty more opportunities ahead of him.
9:12pm (11:12pm AEST) – Olivier Doleuze, the winning jockey, is off to Phuket tomorrow. Lucky guy.
SINGAPORE AIRLINES INTERNATIONAL CUP
1. CHINCHON (W: $6.70, P: $2.30)
2. ZAIDAN (P: $2.80)
3. FLAX ($3.90)
4. ZAZOU
The French do it with Chinchon!!! To be honest, I've never seen a horse look worse in the mounting yard – he was agitated, sweating profusely, he just looked awful. And he comes out and delivers a win like that!!! Wow. Zaidan was game in second, Flax did really well in third for Singapore. Fourth over was Zazou, who was travelling so, so well but didn't quite go on with the job.
8:53pm (10:53pm AEST) – City Style is a late scratching!
8:30pm (10:30pm AEST) – My dad is reading the blog. A long time Singapore resident, he informs me the "dragon" was actually a lion – makes sense I guess given we are in the Lion City! The turf belles feature here too…
8:25pm (10:25pm AEST) – Back out to the yard I go! Good luck with whoever you choose!
8:20pm (10:20pm AEST) – And now for the big one of the night, the Group 1 Singapore Airlines International Cup (2000m). Won by the likes of Grandera, Mummify, Cosmo Bulk, Shadow Gate, Gloria de Campeao and Gitano Hernando in the past, a competitive field has been assembled for the race. I'm keen on CALIFORNIA MEMORY, the grey. I know there are question marks over him but I think at his best he'll be winning this race. I have him in front of CITY STYLE, who was brilliant in the Dubai Duty Free behind Cityscape. He's really emerged at his last few starts and jockey Mickael Barzalona is on fire at the moment. He'll go close. I'm including WAIKATO. It's sentiment but he has been back in form recently and he is just a gun horse. The 2000m is a bit of a concern, but I think he'll go alright. And ZAZOU is the favourite, owned by Chechnyan dictator Ramzan Kadyrov, he's beaten form horse Cirrus Des Aigles this year but I think he's better on a synthetic track. The connections are keen on the Cox Plate later this year, so this race will enlighten Australian punters about his potential.
1 – CALIFORNIA MEMORY
4 – CITY STYLE
7 – WAIKATO
2 – ZAZOU
8:15pm (10:15pm AEST) – Photos from the Krisflyer Sprint…from my perspective. I'll put professional photos up later, as well as some more of mine.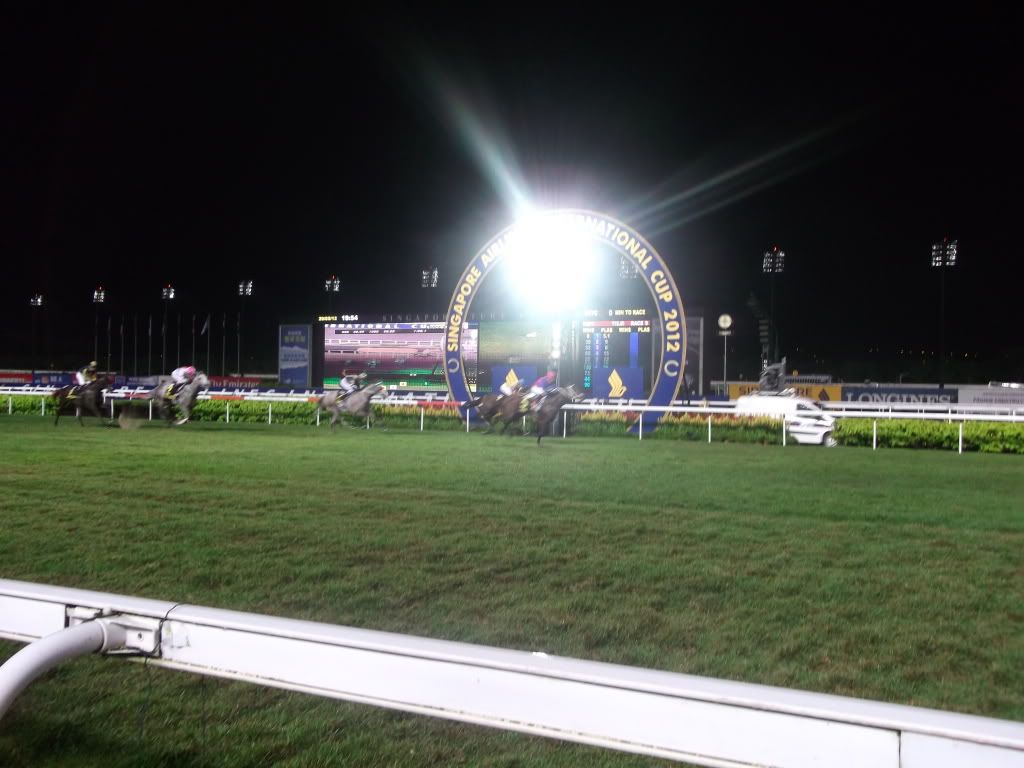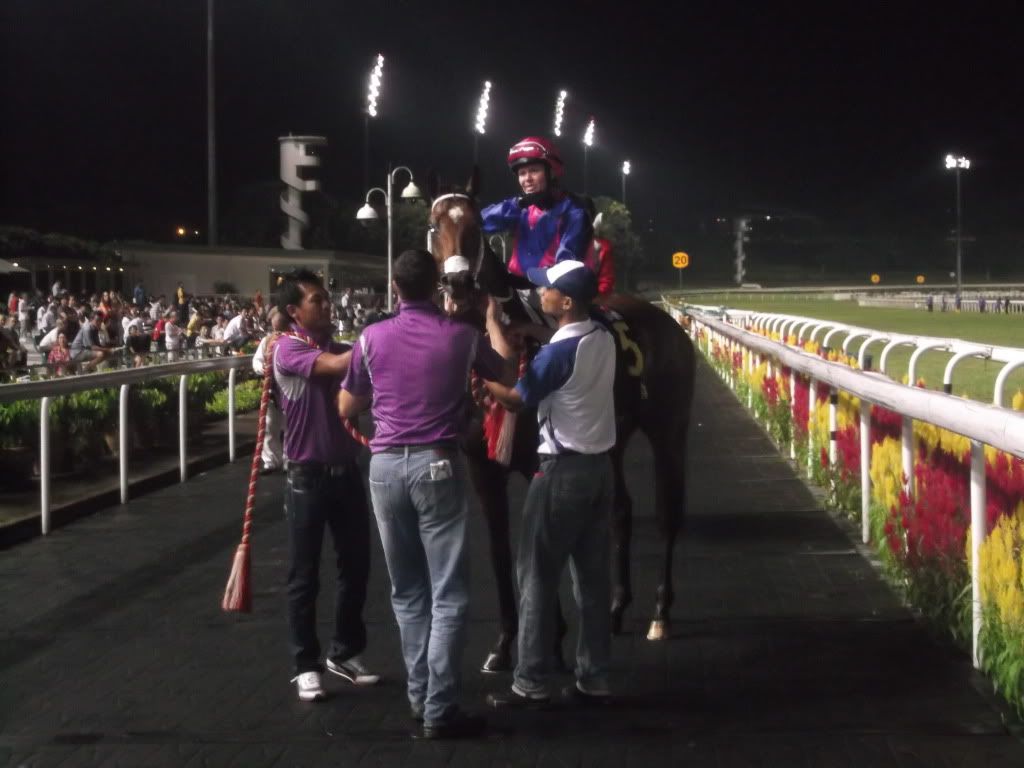 8:08pm (10:08pm AEST) – I feel sorry for Blake Redden, for two months it has looked like an incredible bet. Sadly Krypton Factor didn't turn up today.
8:06pm (10:06pm AEST) – They normally play a triumphant song as photos are taken of the winning connections – something like We Are The Champions, or a song with similar gusto – but they choose to play the Austin Powers Theme??? Interesting choice. Gotta love Singapore.
8:05pm (10:05pm AEST) – I was saying before I reckon Trakus is the way of the future. This is why. Have a look at some of the stats produced by Trakus today.
[blackbirdpie url="https://twitter.com/#!/TrakusRacing/status/204179830516875264″]
GROUP 1 KRISFLYER INTERNATIONAL SPRINT
1. ATO (W: $18.80, P: $3.30)
2. MR BIG (P: $1.90)
3. SECRET ASSET (P: $5.90)
4. CAPTAIN OBVIOUS
The locals win the Krisflyer with Ato! Pat Cummings, who I mentioned earlier, managed to tip him at 50-1 earlier today. Well done to him. I personally couldn't have had him, but it was a very good win. And so Patrick Shaw wins the race anyway, although not with the horse many would have wanted – that being Rocket Man. And jockey Barend Vorster was incredibly ecstatic when he came back. Mr Big ran his heart out in second, while Secret Asset was very good in third. Krypton Factor missed the start and he was never, ever going to win.
7:23pm (9:23pm AEST) – And as the welcome to Singapore continues, I'm going to head out to check out the action. Good luck with your investments. By the way, how amazing are the turf belles!!!!
7:20pm (9:20pm AEST) – So, time for a Krisflyer Sprint preview. If form stands up, then KRYPTON FACTOR will be winning this race by a long way. He is a very similar horse to Rocket Man, and Rocket Man has flogged all of the local horses. But he hasn't settled in well, Krypton Factor, so he may be vulnerable. But who will beat him? I'm going to have something on INVINCIBLE ASH, who has settled in well. She does mix her form – she ran admirably behind Ortensia last start, but was beaten close to 10 lengths by CAPTAIN OBVIOUS too in Dubai. So who really knows? But I think she's good value and can run a big race. Krypton Factor must be included, and I have him in for second. For third, I've gone for Captain Obvious who was good in Dubai although his form tapered off. I reckon he's a threat fresh. And for fourth, I've gone for the three year old MR BIG, who is yet to miss a place.
Therefore, my top four in the Krisflyer Sprint – in order – is:
9 – INVINCIBLE ASH
1 – KRYPTON FACTOR
2 – CAPTAIN OBVIOUS
8 – MR BIG
7:17pm (9:17pm AEST) – Just like last night at the gala dinner, a large Chinese dragon welcomes the racing community of the world to Singapore at the start of the international broadcast.
7:07pm (9:07pm AEST) – And so attention now turns to the first of the features, the Group 1 Krisflyer International Sprint (1200m). I've changed my thoughts on it constantly over the last few days. I've finally come to a decision. I'll give my tips for you shortly.
SINGAPORE AIRLINES A380 LOS ANGELES STAKES 
1. AROWANA DOT COM (W: $6.50, P: $2.00)
2. FATKID (P: $4.90)
3. SILVERON WINGS (P: $4.20)
4. KEEP AWAY
Arowana Dot Com motors home to win the eighth race on the card. However, the call was drowned out by a large Japanese contingent cheering home Arowana Dot Com. It was rather hilarious. Perhaps the name actually means something to them…
7:00pm (9:00pm AEST) – The radar suggests the worst of the rain has passed.
6:54pm (8:54pm AEST) – For someone trying to make a go of racing journalism, it is absolutely incredible to be chatting to some of the people who have inspired me. People like Jim McGrath (the Australian chief commentator for the BBC), Alan Aitken (South China Morning Post), David Raphael (Sky Racing), Bob Kieckhefer (UPI), Gary Crispe (Racing and Sports), Rob Burnet (Thoroughbred News) and Rod Nicholson (Herald Sun).
And then there are people who I now consider among friends, all who I had also admired in the past. People like Mr Dubai Pat Cummings, Laura King (also from Dubai) and her boyfriend Clinton, Anthony Manton (who I worked with in the past) and Dean Croker.
What a great experience!
6:46pm (8:46pm AEST) – One more race before the features, it is the Singapore Airlines A380 Los Angeles Stakes – an open class race over 1600m. They've reverted to the short course here. But there's a couple of horses here who will be familiar to Australians, like THE COMEDIAN and TENZING. But I'm keen on a couple at odds – MR RAFFLES, who is likely to race handy,  and MULAN, who is racing consistently. Each way both of them.
6:37pm (8:37pm AEST) – George Baker will be fine to make the weight to ride Secret Asset.
6:34pm (8:34pm AEST) – The rain is falling, and it's getting heavier. If it continues, start looking for those mudlarks in the features! I'd say it won't get much wetter though.
SINGAPORE AIRLINES A380 ZURICH STAKES
1. SPEEDY CAT (W: $3.00, P: $1.50)
2. MASTHEAD (P: $1.50)
3. METEOR MIKE (P: $4.10)
4. MAURICE UTRILLO
Masthead looked the winner at one stage but Speedy Cat absolutely flies and wins very easily. Parfumier doesn't do much.
6:20pm (8:20pm AEST) – Very good sprint coming up here, the Singapore Airlines A380 Zurich Stakes – a Class 2 over 1400m. I actually took the A380 from Singapore to Zurich in January so I'm hoping to pick the winner here! There are three former Australian horses here – MASTHEAD, who ran fourth to Sepoy in last year's Golden Slipper; ECLAIR MYSTIC, formerly with Robert Smerdon; and PARFUMIER, a second placegetter in the Villiers Stakes. The favourite here is SPEEDY CAT, and I can understand why. Wasn't far behind Super Easy last start. He could go close. But I'll be cheering home Parfumier here. Go son!
6:15pm (8:15pm AEST) – Great candid photo here. Can you identify the three people in this photo?
From left to right, they are David Raphael (Sky Racing Australia, former Hong Kong commentator), Melbourne Cup-winning jockey Gerald Mosse and Epsom Derby-winning jockey Mickael Barzalona.
6:12pm (8:12pm AEST) – The thunder is starting to rumble around Kranji. Here's a picture from about 20 minutes ago, it's looking considerably more grey outside.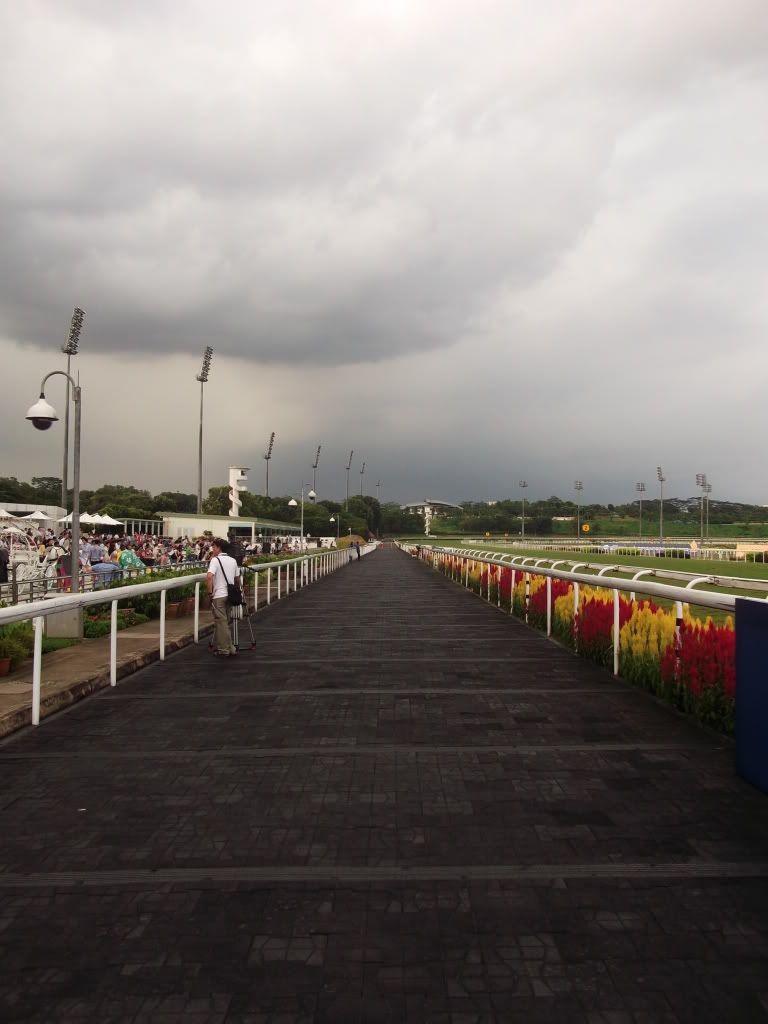 6:10pm (8:10pm AEST) – The crowd in the parade ring before the last race.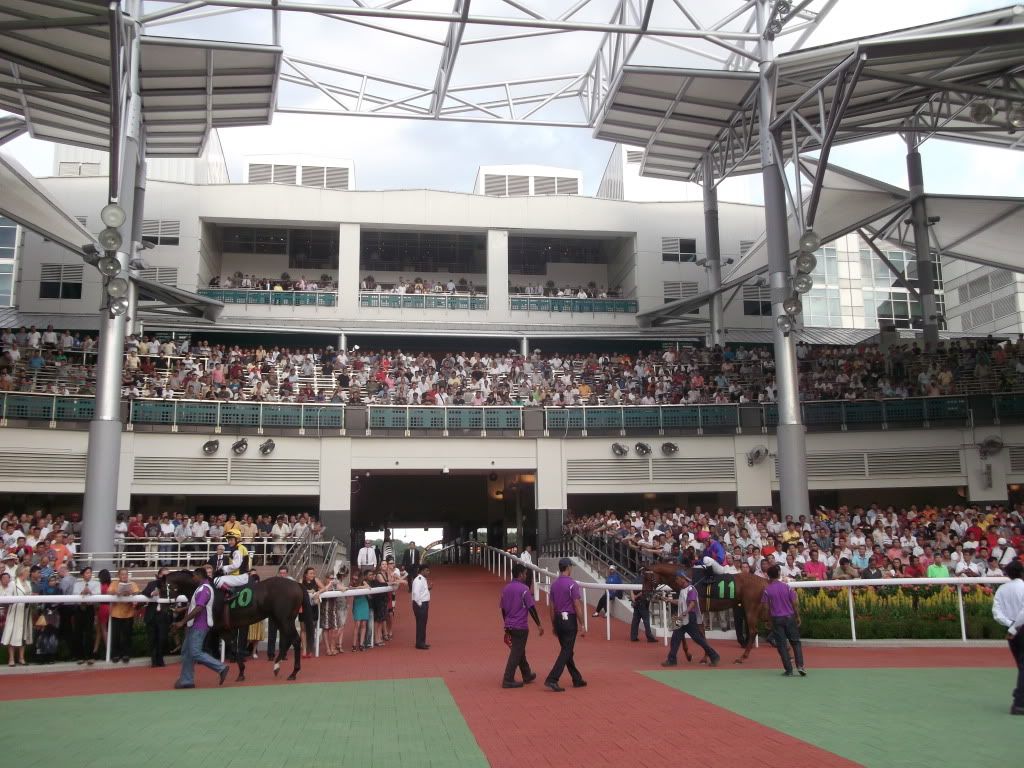 6:09pm (8:09pm AEST) – Here's a couple of photos in the lead up to the last race. Firstly, John of Arch crossing the line.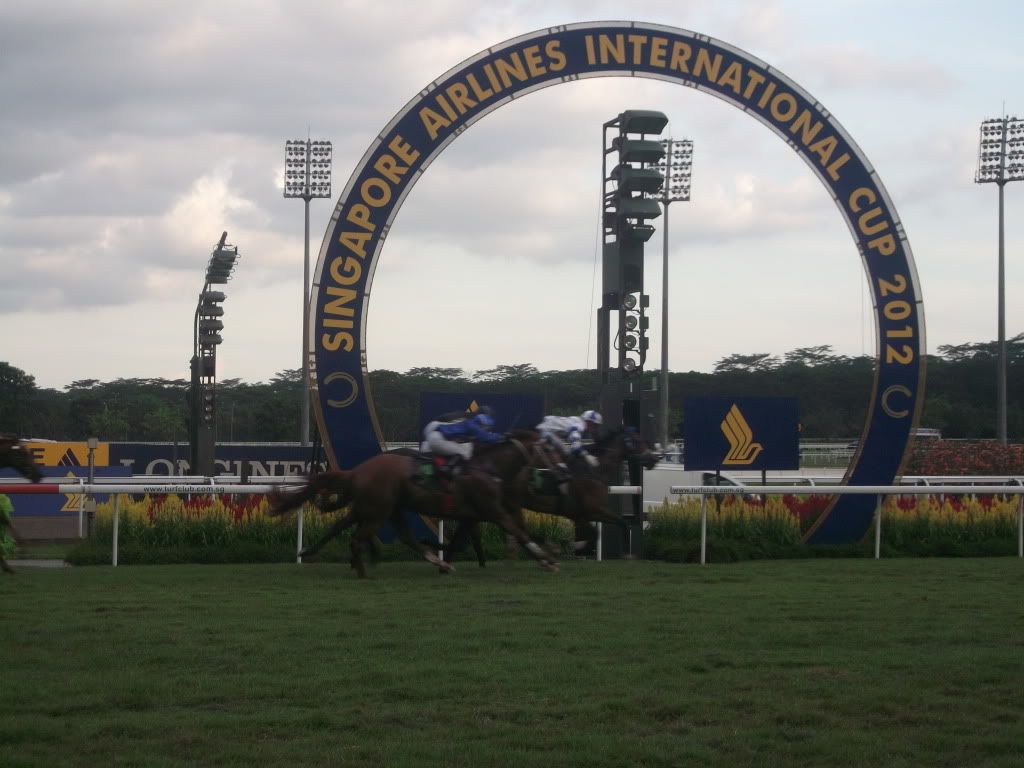 SINGAPORE AIRLINES A380 MELBOURNE STAKES
1. JOHN OF ARCH (W:$9.60, P: $2.70)
2. FOXTROT HOTEL (P: $1.70)
3. KNIGHT SPIRIT (P: $3.10)
4. MARTINCHO CAT
I didn't get back in time to tip for this race, but if I had I wouldn't have tipped the winner anyway. Good win by John of Arch.
5:35pm (7:35pm AEST) – I'm going to head to the mounting yard to try and speak to a few people. I'll get photos for you.
5:30pm (7:30pm AEST) – Given there were so many racing personalities in the one place last night, I bet you can imagine the atmosphere when Frankel ran in the Lockinge Stakes. Or when I'll Have Another nailed Bodemeister in the Preakness Stakes. Click here to watch a replay of the Preakness. If this doesn't send chills down your spine…nothing will.
5:28pm (7:28pm AEST) – James McDonald is an absolute gun. I said on Dubai radio in March that I was convinced he was a champion jockey in the making. I'm still convinced about that.
SINGAPORE AIRLINES A380 HONG KONG STAKES
1. GOLDEN CURL (W: $5.70, P: $2.00)
2. FONG SU (P: $15.90)
3. PRIME MOVER (P: $13.90)
4. SUPER AHEAD
Golden Curl wins it, with the favourite Von Snitzel disappointing. If you backed Fong Su each way in Australia, you should feel ripped off – he paid $188 the place here in Singapore. When divided by 5, that gives a dividend of $37.60. WOW!!! Champion Dragon, who jumped from barrier 2, stopped after going a couple of metres.
5:14pm (7:14pm) – George Baker, who is down to ride Secret Asset in the Krisflyer Sprint, is still 1.5kg overweight. If he doesn't make the weight, Andreas Suborics is down to ride Secret Asset.
5:12pm (7:12pm) – These races are flying by. Next up is the Singapore Airlines A380 Hong Kong Stakes, a novice over 1200m. VON SNITZEL is the favourite, and has been heavily backed. It's probably a fair favourite too. But I'm hopeful that either GOLDEN CURL or SUPER AHEAD can upset the favourite. If I was to lean for one, I'd go for Super Ahead.
5:07pm (7:07pm) – Blake Redden, a good mate of mine and another aspiring racing journalist, must be getting very nervous around about now. Blake tipped Krypton Factor, the favourite, for the Krisflyer Sprint. BUT he tipped him before the Golden Shaheen in Dubai. At the time of tipping, the Bahrain galloper was 80-1. Good luck messages are flying around Twitter. Here's one from Alex Donnelly.
[blackbirdpie url="https://twitter.com/#!/AlexDonnelly14/status/204129846769614850″]
4:59pm (6:59pm) – Getting psychic animals to choose the winners of sporting events in recent years seems to have been the done thing. Singapore was no different – they got a parrot to pick the winners of the Krisflyer Sprint and the Singapore International Cup.
For the record, he selected Invincible Ash in the Krisflyer Sprint and City Style in the Singapore International Cup.
SINGAPORE AIRLINES A380 PARIS STAKES
1. JUST DASHING (W: $13.90, P: $4.90)
2. STEADFAST WARRIOR (P: $2.00)
3. SKY PROTEGE (P: $5.80)
4. TOUCH THE LINE
Cliff Brown gets the quinella here, and there was barely anything between them! But it was a great race and Just Dashing was brilliant at the finish! Urban Dancer, who I thought would go forward, ended up back and did absolutely nothing.
4:46pm (6:46pm AEST) – This race has been pushed back to 4:50pm.
4:38pm (6:38pm AEST) – The objection from the last race has been overruled.
4:36pm (6:36pm AEST) – Time for the fourth race already, the Singapore Airlines A380 Paris Stakes – a Class 4 over 1800m. I'm really keen on URBAN DANCER here. His form has been up and down but he'll be up near the speed (which is looking like it is an advantage today) and he's had excuses when beaten. Hoping Moreira can get me home here.
4:33pm (6:33pm AEST) – Walked the track on Friday night, after the Singapore Guineas. It's a pretty nice surface!!!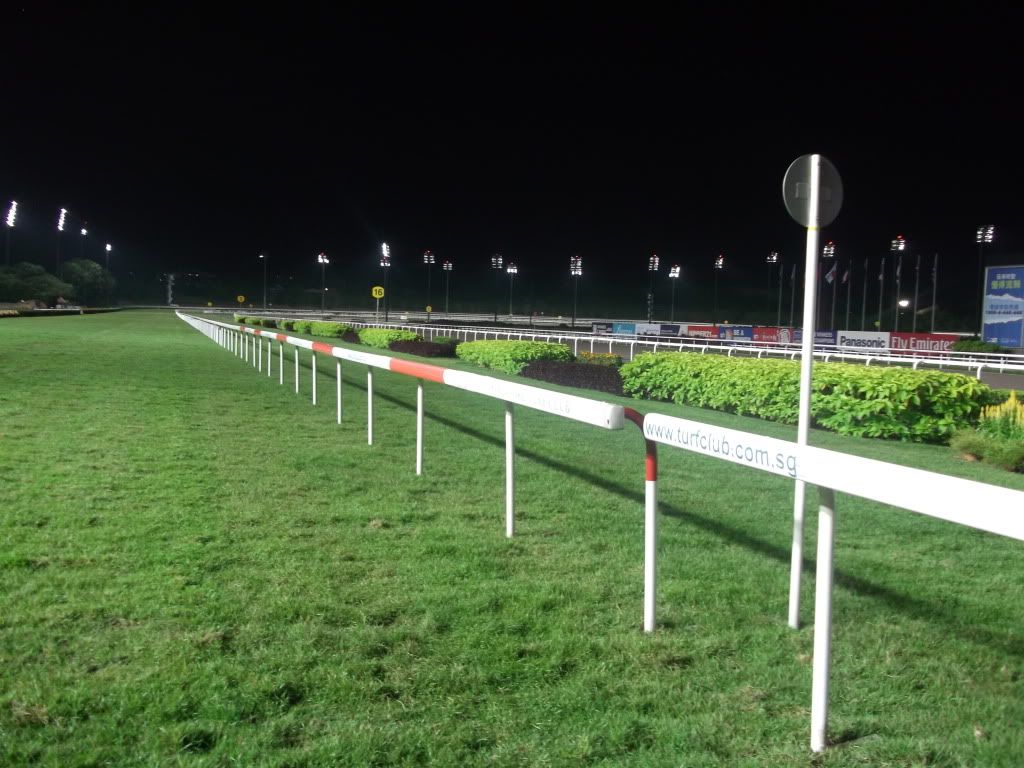 4:30pm (6:30pm AEST) – Sky Racing's David Raphael has posted some of the big replays for the Singapore International Cup.
[blackbirdpie url="https://twitter.com/#!/racingraphael/status/204050914951176194″]
4:27pm (6:27pm AEST) – Anthony Manton, an expat Aussie who is the chief racecaller for the Selangor Turf Club in Kuala Lumpur, has just come in and told us there are no ATMs (cash machines) on track. The closest is at the MRT (train) station. That's a fair way away. Incredible the different attitude towards gambling here – in many ways, it is encouraged – but it is also discouraged in subtle ways. It's definitely not like Dubai though where gambling is prohibited.
4:24pm (6:24pm AEST) – It is a minor protest – it is 4th (Sebastien/Joao Moreira) vs 3rd (Chinese Culture/John Powell). It is over the final 600m.
4:22pm (6:22pm AEST) – There is an objection – but we don't know exactly what it is yet.
4:21pm (6:21pm AEST) – Apparently Joao Moreira, who rode the fourth horse Sebastien, is going to look at the footage. So there will be a delay to correct weight.
SINGAPORE AIRLINES A380 TOKYO STAKES
1. BIGDINERO (W: $30.30, P: $8.40)
2. HOT GOLD (P: $1.40)
3. CHINESE CULTURE (P: $5.40)
4. SEBASTIEN
The pre-race antics of Hot Gold probably told at the end as he was nabbed late by Bigdinero. He's been going alright but I couldn't have backed him. He didn't work too well. But all honours to him, great win.
4:13pm (6:13pm AEST) – A few of these are playing up here. Rock You and Hot Gold are both queries at the moment.
4:10pm (6:10pm AEST) – Hot Gold is lathered in sweat. Could be a bit iffy.
4:06pm (6:06pm AEST) – Just four minutes until the next race. Unfortunately for Michael, I don't have Raffles Pegasus in my selections. It is hard to go past HOT GOLD who looks thrown in at the weights but I'm having something on ROCK YOU and ALPHA INFINITY.
3:53pm (5:53pm AEST) – Michael East has asked about the form of one of the gallopers in the next race, the Singapore Airlines A380 Tokyo Stakes – a novice over 1600m.
[blackbirdpie url="https://twitter.com/#!/jitters/status/204110777903349762″]
RAFFLES PEGASUS has alright form – but he didn't work overly well during the week so I'd be a little bit cautious. But he definitely has a chance on his last run.
3:50pm  (5:50pm AEST) – Here's the view of Kranji from the media room: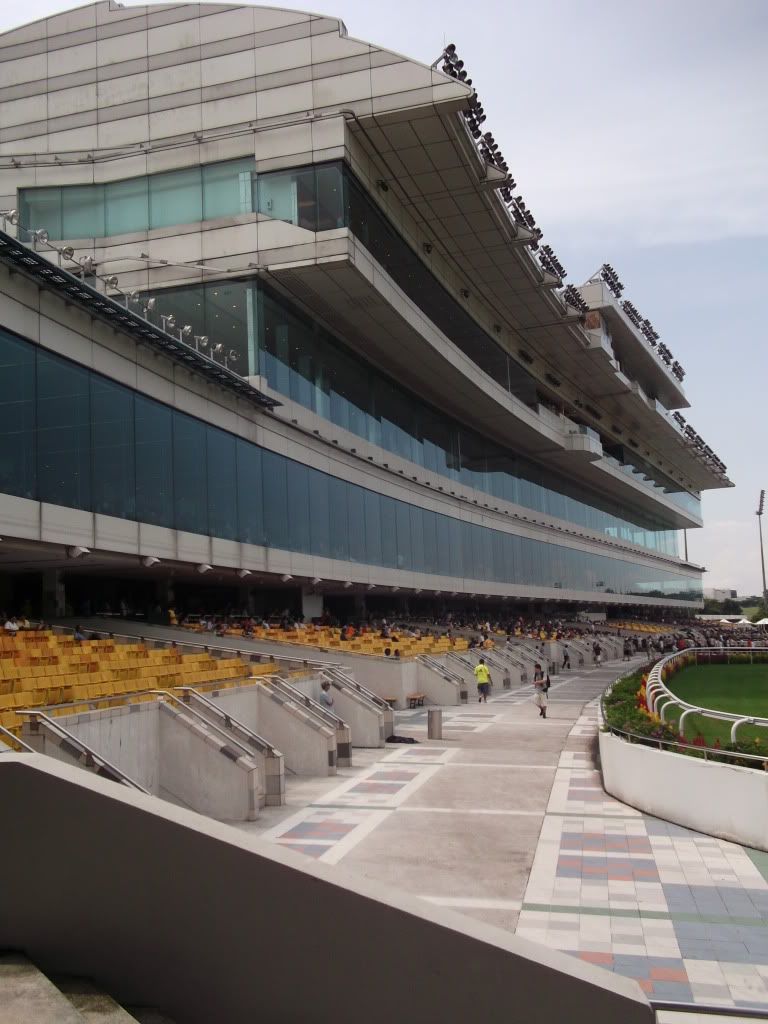 3:43pm (5:43pm AEST) – Trent Edmonds threw a question out on Twitter, I thought it could be answered pretty well here for other punters wondering the same thing.
[blackbirdpie url="https://twitter.com/#!/TrentEd1/status/204105343121367040″]
There are two courses here on the turf in Singapore – the long course and the short course. The long course has a circumference of 2000m, while the short course has a circumference of 1800m. There is also the polytrack here, which will not be used tonight. The long course will be used until race 7, while the short course will be used for the remainder – including the two features.
SINGAPORE AIRLINES A380 LONDON STAKES
1. BULLET FLY (W: $35.60, P: $7.60)
2. SMART IDEA (P: $1.30)
3. SELECT GATHERING (P: $2.00)
4. PARAGON ANGEL
Big win to Bullet Fly at juicy odds, improving on a fourth on his debut. But the run of the second horse, the favourite Smart Idea, was absolutely tremendous. He flew late. Keep an eye on him into the future.
3:30pm (5:30pm AEST) – I'm not keen on having a bet here, although I did get a small push for RADIANT ROI. I've been told that DRAGON has improved markedly on his first start. If you want to have a bet, include those two.
3:27pm (5:27pm AEST) – They are out on the track for the second race already, the Singapore Airlines A380 London Stakes. It is a two and three year old restricted maiden – although the only two year old entered has been scratched.
3:23pm (5:23pm AEST) – The Singapore Turf Club is a big supporter of Trakus, which I firmly believe is the future of racing. I'll explain more shortly, but here's a fascinating tidbit from the first race.
[blackbirdpie url="https://twitter.com/#!/TrakusRacing/status/204109891655307264″]
3:19pm (5:19pm AEST) – Here's the picture of the dividends here – they are all for $5, so you need to divide by 5 to get the Australian equivalent.
3:12pm (5:12pm AEST) – All the dividends I will give are NSW TAB dividends. I could give the Singapore dividends but they could confuse punters back home. I'll put up a picture shortly!
SINGAPORE AIRLINES A380 SYDNEY STAKES 
1. JERAM CLIPPER (W: $7.40, P: $1.70)
2. AFFIRMATION (P: $4.10)
3. SPEED DEMON (P: $3.10)
4. RECYCLE WORLD
Good start for the followers of the blog with Jeram Clipper coming home to win the first. After racing five and six deep the whole way, Gypsy Magic dropped out to finish ninth. Good Singapore debut for Jeram Clipper!
2:56pm (4:56pm AEST) – I'll give you some more information about the track, etc after the first race. But time to give some selections for the first race. I'm going to have something small on two horses – JERAM CLIPPER, first time in Singapore but comes with alright form, and GYPSY MAGIC who worked well during the week. He looks alright too.
2:49pm (4:49pm AEST) – They are already heading out for Race 1, the Singapore Airlines A380 Sydney Stakes. It's a Class 4 over 1400m on the turf here (the long course).
2:32pm (4:32pm AEST) – Welcome to Just Horse Racing's live blog from the Singapore international races at Kranji. Andrew Hawkins here with you, live trackside from Singapore. It's been a big 24 hours in international racing – Mawingo won the Doomben Cup yesterday, Frankel made it a perfect 10 in the Lockinge Stakes and I'll Have Another kept his Triple Crown aspirations alive in the Preakness Stakes. There are two major races on the card tonight – the Group 1 Singapore Airlines International Cup (2000m) and the Group 1 Krisflyer International Sprint (1200m). The Sprint will be run at 9:50pm AEST, while the Cup comes up at 10:40pm AEST. It is an 11 race card, with the features races 9 and 10 respectively. It should be a great night here, I'm looking forward to your involvement. I will be posting my selections, as well as any little snippets I hear along the way. I'll answer any queries you may have about Singapore and about the race meeting. I'd love to hear your thoughts on the night's racing too. You can contact us in a number of ways – send me an email at [email protected], tweet me at @AndrewNJHawkins or comment on the Just Horse Racing Facebook page. I hope you'll enjoy our coverage of the 2012 Singapore International Racing Festival.
Deposit $400, Bet with $1000
Sign-up, deposit $400 & receive $600 in bonus bets. That's $1000 to bet with!*