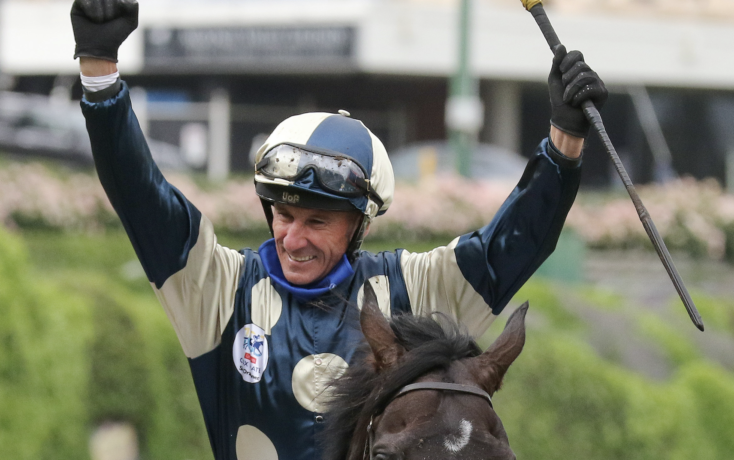 Image: Bruno Cannatelli
Read what each of the jockeys had to say about the runs of their mounts in the 2020 Cox Plate at Moonee Valley on Saturday..
Winning Jockey: Glen Boss: "Oh my God, this is unbelievable. As a young boy I used to watch a VCR (video) of Kingston Town and Manikato and I wore that out, so the Cox Plate was engrained into my psyche as a young boy.
"It's a special race and I just couldn't have scripted the run any better. He just gave me a lovely ride. I was twitching my fingers throughout the race and he was there for me. I thought 'this is nearly going to be winning this'. He was up for the task.
"There's so many people I've got to thank. Ozzie and all the boys. Obviously with Hughey Bowman – sorry mate – I got the call up and he was a part of it. They put up a few names and Hughey was bringing it right back to me, 'put Bossy on' and I'm glad I got the job done.
"James Winks, I've been in constant contact with James. James is an incredible judge and he's going to be very good on TV when he gets going because he's got so much to bring. He's very intelligent and articulate and he never minced words with this horse – he told me straight up.
"I didn't want to hear any bullshit, any fluffy stuff. He told me exactly how it was. He was spot on to the 'T'.
"And to Ciaron, the whole team. Ciaron was very confident with this horse, speaking to him this morning. He was really confident and I was confident. I only thought once the rain came that this was the right horse. He's got great form and he just might go a little bit better in a Melbourne Cup, I'm telling you, because he was actually getting warmed up towards the line. He was actually getting quicker towards the post.
"The way he gave me a feel today, he might be running in a Melbourne Cup and running very well in one.
At the 600: "He was there for me. Every time I moved my 'pinkie' he was waiting for me to ask him for a real command and I just knew that all I had to do was ask him when I got clean air. The run came and he was very strong to the line.
"This is a really proud moment for me. Growing up and watching this race, to think that I've now joined 'Babe' Thompson and Hughey Bowman as the most-winning jockeys of this race – a race that I live and cherish – Iove and cherish this race.
"My wife, Sloan, she's at home watching. Oh my god, sweetheart! This is for my wife and my two kids. They've had to put up with a lunatic in the last couple of years. I've settled down in the last twelve months.
"Sweetheart, I swear to God, this is just for you. Tayte and Carter. This is so special for us. I can't wait to get home and see you all."
Billy Egan on Nettoyer: "She worked to the line nicely. She went alright for her in that grade."
James McDonald on Kolding: "He doesn't go this way around. Simple."
Willie Pike on Arcadia Queen: "It was a sound effort."
Jamie Kah on Buckhurst: "He was disappointing. He was very dour today."
Michael Rodd on Master Of Wine: "He ran his race a bit upside down. He was very keen early wanting to charge up behind them. He had no right to finish where he did and they sprinted and left him and then he came home late. He's still a work in progress, the horse."
Luke Currie on Fierce Impact: "Went back from the draw. He got a good run through them but he was on empty late."
Kerrin McEvoy on Probabeel: "The ground went against her. She tried very hard but she found it tough over that last furlong in the ground."
Craig Williams on Humidor: "He followed the winner up through the race but he dipped and dived from the 1200 (metre mark) onwards, even though he was in the same ground as the winner, he just didn't enjoy it today."
Damian Lane on Aspetar: "Didn't handle the track or the condition or the circuit."
Damien Oliver on Russian Camelot: "Great effort. He ran really good. Got into a nice position. Was probably a little close to a strong speed from the barrier but we did as well as we could. He was super brave even when the first two came to him. He fought it out really well."
Jye McNeil on Grandslam: "Not to be today."
John Allen on Mugatoo: "He's gone super. Tried to get a bit of cover early so he'd done it the tough way. Didn't get around the home bend great but he battled on good."
Ben Melham on Armory: "He was good. He just struggled in the ground and I had to keep him wide on the fresh ground. Just got beaten by a better one on the day. He had his chance."
*Existing customers only. 2nd Racing bet. Excl SA & WA. T's & C's apply. Gamble responsibly.